PHUKET


a large island in the Indian Ocean, is 867 kms. from

Bangkok

. It is the only island having provincial status, and was a regional headquarters as well, with a rich and colorful.Known as the Pearl of the Andaman, it derived much of its former glory and its enormous wealth from tin production, which in Phuket dates back over 500 year. Today, Phuket is the major tourist attraction of

Thailand

with

hotels

of all price ranges.
The surrounding waters contain much varied marine life, and the town is notable for its Sino-Portuguese architecture. It is a very attractive island for sightseeing, with lovely seashores and forested hillsides. Its population of 1.6 million people ranks sixth among all provinces. Approximately 1.75 million Rai of the area is forest land. The main occupation here is rice farming. The average per capita income is 14,343 Baht.

Geography
About 70 percent of Phuket is mountainous; a western range runs from north to south from which smaller branches derive. The highest peak is Mai Tha Sip Song, or Twelve Canes, at 529 meters, which lies within the boundaries of Tambon Patong, Kathu District. The remaining 30 percent of the island, mainly in the center and south, is formed by low plains. Streams include the Khlong Bang Yai, Tha Jin, Khlong Tha Rua, and Khlong Bang Rong, none of which is large.


I
s about 8 kms. outside

town

. Take Vichit Songkram Rd., to the Bypass Rd., and turn left, and drive for about 10
mins. Wat Chalong will be on your left. This is where stands the cast statue of Luang Por Cham, who helped the people of Phuket put down the Angyee, or Chinese Coolie, Rebellion in 1876 during the reign of Rama V. There are also statues of Luang Por Chaung, and Luang Por Gluam. Other monks, who were abbots of the temple during later times, and who are the objects of respect and recipients of the
offerings by Phuket people generally.


More than one hundred species of sea life are on display at the aquarium, many of them taken from the water around Phuket. The aquarium is located at Cape Panwa, on the island's extreme southeast; admission is 5 Baht for children and 20 Baht for adults. A Songtaew (local bus) can be taken from the Talad Sot, or Fresh Market. Tel. (076) 391126.
Open daily, 8:30 a.m. – 4:00 p.m. read more
A great view of

Phuket Town

, the southern part of the island, and some of the o
ffshore

islands

, can be obtained by going to the top of Khao Rang Hill, on the city's northwest. There are also several

restaurants

featuring spectacular views of the city, a health park for exercise enthusiasts, and a comfortable, expanse of grass for picnickers at the top with a bronze statue of Phraya Ratsada
Nupradit the model Governor of Phuket during King Rama V's reign.


The beginning of the tin boom during the Nineteenth Century led to construction of many fine old mansions and shops still well preserved. The architectural style, typical of the region, is described as Sino-Portuguese and has a strongly Mediterranean character. Shops present a very narrow face on the street but stretch back a long way. Many, especially on Dibuk Rd., have old wooden doors with Chinese fretwork carving. Other streets, forming what might be called "Old Phuket", with similar structures are Phang-nga, Yaowarat, Thalang, and Krabi, and a walking tour of the area is easy and delightful. Some other old European-style buildings of note are the Provincial Hall (Sala Klang), the Phuket Courthouse (San Changwat), and Nakhon Luang Thai Bank.
Located on Thepkasattri Road, approximately 3 kilometers from Phuket City is an extraordinary place for culture lovers. The village provides stunning classical Thai dance performances, sword-fighting, Thai boxing, southern customs and elephant shows. Handicrafts and traditional mining techniques are also featured. The orchid farm outside is worth exploring. The performances are at 11.00 a.m., 2.00 p.m. and 5.30 p.m. The fees are 400 baht for adults and 200 baht for children. Call 076 214860 for more information.
A land reclamation project provided abundant new land now used for p
arks and public facilities at Sapan Hin, located where Phuket Rd., meets the sea in

Phuket Town

. In the circle is the Tin Mining Monument, shaped like a large drill bit, dedicated to the memory of Captain Edward Thomas Miles, the Australian who brought the first tin dredge to Phuket in 1909. The monument was built in 1969 on the occasion of the 60th anniversary of tin dredging in Phuket. A Sport
Center is located in the park.


Phuket Sea Shell Museum


Perhaps the world's most valuable collection of seashells has been put on display at Phuket Seashell near Rawai Beach on the island's southwestern shores. The emphasis is on shells from Phuket and Thai waters, which are among the most sought-after by collectors, however shells from every part of the world are featured. Wherever they originate, each shell in the Shell Museum is the best of its type--very often the only of its type. Displays have been created in a logical order, and visitors can see at once differing characteristics among related species. There are numerous rarities and freaks including the world's largest golden pearl (140 karats), large sections of sedimentary rock containing shell fossils that represent the earth's earliest life-forms, and a shell that weighs 250 kilograms. One of the world's great private museums, the Shell Museum is open daily from 8:00 a.m. till 7:00 p.m. For details call 381266, or 381274.
P
huket's principal boat anchorage and the island's largest bay. Ao Chalong has a long flat, shallow, muddy bottom; at ebb tide, waters recede as much as one kilometer. It is very picturesque but not for swimming. Most visitors to the islands south of Phuket depart from Chalong pier, and the bay's restaurants are well known for their seafood. Charters to various places can be arranged from there, and it is the center of the island's

yachting
businesses. To get there take Jao Fah Tawan Tok Rd., or Jao Fah Tawan Okk Rd., to Chalong Circle. The pier and a number of restaurants are located on the short road leading to the beach from the circle.
Sehn Bay
A small bay with many rocks and corals. Snorkeling and diving are possible. For sunbathers, this secluded, curving strand north of Nai Harn offers some privacy. A small open air restaurant supplies food and drink. To get there go through the parking lot of the Phuket Yacht Club hotel and follow the road to Ao Sehn, about 1/2 km.
Phrom Thep Cape

"Phrom" is Thai for Hindu "Brahma" signifying purity, and "Thep" means 'God'. Phromthep is a headland stretching into the sea and forming the extreme south-end of Phuket. It has been prominent feature for mariners since of early seafarers from the sub-continent, remains of whose journey's have been found all along the Malay-peninsula's west coast. From Rawai Beach turn right and go for 2 kms. The cape has tall cliffs on the south, and was formerly called by local villagers "Leam Jao" (The Gods' Cape). From the cliffs running down to the boulders at the sea is a line of palm trees. Emerald green currents swirl in the deep water and breakers hurl themselves in vain against the rocky point : it is one of Phuket 's most inspiring vistas. From Promthep Cape, which is the most beautiful place to catch Phuket's famous sunset, a road leads northwest to Nai Harn Beach.
Ka cape is a popular stop for Thai visitors to the island. Located at the extreme southwest of Chalong Bay. South of the point is Leam Ka Beach, a sandy strip dotted with rocks and boulders. The extensive coral reefs offshore make for interesting snorkeling mornings. Bungalows, Thai food, and boat charters to the islands are available. Ka Cape is 7 kms. west of Chalong Circle.
Patong is the most famous - some would say infamous - beach resort on Phuket. With its wide variety of activities and nightlife, Patong is an ideal place to party and play.
By night the town has a bustling nightlife which includes literally hundreds of restaurants, chic lounge bars, beer bars and of course discos. The nightlife is centred around Soi Bangla (Bangla Road) however there are quiet parts of town.
Site of the Chao Ley or Sea Gipsy village, many restaurants and bungalows, shell handicraft shops, and both fishing and charter boats to the nearby islands. The beach itself is suitable for swimming. Rawai is 7 kms. west of Chalong Circle.
The smallest of Phuket's three main tourist beaches, Kata is different in appearance and style from Karon or Patong. The beach itself is broad and curving, and structures bordering it are low–rise. The waters are perfect for swimming, and at the north end is a coral reef with many varied corals and fishes which stretches out toward Poo Island., about 1/2 km off shore. Facilities for every price range include hotels, bungalows, tour companies, restaurants, bars and clubs. There is regular bus service to and from Phuket town during daytime.
South of

Kata

is

Kata Noi

, a smaller beach with only a few

hotels

and little other development. The beach is superb. Many fish inhabit the rocks and corals along the beachless shoreline stretching south. To get there take the narrow beach road up over the hill from

Kata







Karon Beach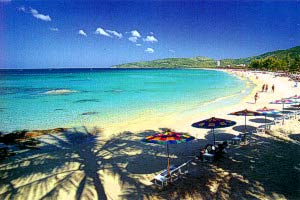 The second largest of Phuket's principal tourist beaches. Large resort complexes line the road back of the beach, but the strand itself, long and broad, has no development. The sand is very white, and squeaks audibly when walked on. The southern point has a fine coral reef stretching toward Kata and Poo Island. Restaurants, bars, tour companies and other non-hotel businesses are at the north end, near the traffic circle, and at the south, on the little road connecting the back road with the beach road. The narrow road between Kata and Karon has a number of small businesses as well as the Dino Park Mini Golf facility. Karon is the most up-scale of Phuket's beaches. Regular daytime bus service to and from Phuket Town.
Kamala Beach
Kamala provides a haven for those who prefer the quieter life. Although the southern end of the beach can get busy in the high season, the northern end is peaceful all year round. "Rim Haad" (Beach Road), at the southern end, has a number of small 20-30 room hotels for the low/medium budget traveller. Friendly service and village feel and a diversity of restaurants and small bars can be found on this small road. Cheaper food options/market stalls can be found on the main Kamala Road.
A popular swimming beach and yacht anchorage during the dry season. The beach is fine, but big waves strike it during the wet season, making swimming dangerous. Regular bus service to and from Phuket town during daytime. Nai Harn is just north of Phrom Thep Cape.

A fine beach, natural surroundings, and coral are on this little island 3 kms. from Rawai, south of Phrom Thep. There is also a giant Buddha Statue. The island is 15 minutes by chartered boat from Rawai.
Viewpoint
From this point can be seen the bays of Kata Noi, Kata and Karon, and also Poo Island. It is one of the island's best views. A large public sala, or shelter is there for visitors, and several vendors sell food, drinks, and souvenirs in the area when the weather is nice. The viewpoint is between Kata and Nai Harn Beach.
This large, mountainous island is only 20 minutes by regular passenger boat from Chalong Bay, in the south of Phuket. The mainly Muslim inhabitants engage in fishing, rubber and coconut planting. There is a long stretch of beach on the northeast coast. Boats to Ko Lon leave daily in the early morning from Chalong Pier. Accommodation on the island: Baan Mai Cottages & Restaurant
This island off Phuket's south coast is so well known for its coral reef that it is often referred to simply as Coral Island. In addition to the splendid reefs there are two fine beaches on the north and west. Koh Hey is part of a marine preserve, but

accommodations

, restaurants, various water sports and

diving

are all available. Boats leave from

Rawai

and

Chalong

. Package tours are also available.
This tiny island off Phuket's southeast coast is highly prized for its still perfect natural environment, including fine white beaches and crystal waters; ideal for swimming, diving, or fishing. The only business of any kind is the plush Maiton Island Resort. Those not wishing to stay overnight may take a daytime excursion leaving from Ao Makham Deep Sea Port. For details contact (076) 214954-7.
Taphao Yai Island

10 minutes from Phuket by ferry from Ao Makam on Phuket's southeast coast. The island is home to the Bucerotes hornbill. To get there from Phuket Town take Chao Fa Rd., to the Sakdidet Rd., intersection, turn left on Sakdidet and follow it 8 kms. to Ao Makham. The road splits in the vicinity of oil storage facilities; take the left fork about 200 meters to the Ko Taphao ferry pier. Dining and accommodations are available on the island. For details call Phuket Paradise, (076) 214917.
Raya (or Racha ) Islands

Two islands running roughly northeast to southwest off Phuket's southern coast.
- Raya Yai Island On the west coast is a fine beach closed in by the hill that stretch away from it like to arms of a horseshoe called alternately Ao Tawan Tok or Ao Bungalow. Clean sandy beach and crystal clear waters of Raya Yai attract day trippers from Phuket. From the top of the hill to the south of the bay is the viewpoint from which the whole island can be seen. On the east, at Ao Kon Kae Bay, is an excellent site for diving.
- Raya Noi Island This island, 10 kms. from Raya Yai, is the result of coral reef build up, and there are more rocks than beaches. In a small bay on the west is a boat anchorage. The waters at Raya Noi are emerald green, and fishing is famous, but swimming is not recommendable.
To get there contact a charter boat at Ao Chalong or Rawai, or go to travel agent for details on package tours to the islands. By long-tailed boat the travel time is about two hours. Larger boats operated by tour companies will make the trip in about one hour. Travel to Raya Islands is restricted to dry season and periods when the monsoon is not blowing.
Lying off Phuket's east coat, this small island has been developed for out-of-doors minded tourist. Among the many activities are snorkeling on the coral reefs. sea kayaking, mountain-biking, playing miniature golf, and visiting the island's pearl farm. To travel to Rang Yai Island, boats may be hired from Laem Hin Pier from Phuket Boat Lagoon. Package tours are provided by Richy Island Tour, Tel. 238163, and other tour agencies.
Separated from the mainland of Phuket by the Khlong Tha Chin, a shallow mangrove swamp, this twenty square kilometer island is connected by a causeway to the city. Wat Ko Sire, on the hill, has a large Reclining Buddha and provides fine views of the surroundings. Phuket's largest settlement of Sea Gypsies, or Chao Ley, are on Ko Sire at Leam Tuk-kae. Swimming is not present because of the muddy bottom. There are some popular seafood restaurants on the eastern shore.
Shopping
There are stalls all the way along the beach road (Thaweewong road). Stalls operate during the day but it is in the evening that it really gets going. You can buy all kinds of clothes, souvenirs, sunglasses, CDs and much more. Always haggle at the roadside stalls. As a very rough guide, try and get the price down to about 50% of the quoted price.
Situated on Rat-U-Thit road nearly opposite Bangla road is the newly opened Jungceylon. Officially opened on 20th Dec 2006, this large complex houses a hotel, Robinsons department store, Carrefour, a SFX cinema, bowling alley and a wide variety of shops and restaurants. At the time of opening, not all shops and facilities were open but quite a few such as Carrefour and a number of dining outlets had opened for business.
Patong also has two Ocean department stores, one towards the Rat-U-Thit road end of Bangla road, Ocean Bangla and the other along the beach road, just past the Holiday Inn. Although quite small, they have a good selection of clothes.
Nightlife

Patong Nightlife
If you are looking for nightlife in Phuket then Patong is the number one choice. Patong has a lot of bars, discos, karaokes massages and a gogo bars with beautiful thai girls (bar girls).
Although there is a heavy nightlife in Patong, I think it suitable for families with kids anyway because the nightlife is centralised to just a small part of Patong;
Bangla Road and Soi Sunset and if you avoid these streets on evenings and nights you will never noticed it.
Karon nightlife - Phuket
Karon has enough beer bars to satisfy you and recently a new disco/live music place opened in Karon, so you can have fun here too.
Phuket Town nightlife - Phuket
In Phuket Town you can also find some nightlife, most thai people at these places and good choice if you are tired of tourists :)
I have visited Climax and The Spark Club (Nightclub, Live music) located on Ratsada Rd. and Pink Lady Cafe (Café, Karaoke).
Thai Law regarding nightlife - Phuket

According to the thai law discos and nightclubs have to close at 2:00 am and normal pubs/beer bars at 01:00 am. But as you already might know this is not true for phuket or many other places. Many get around the law by bribing the local police and as someone told me, patong is a freezone with many exceptions from the thai law.
Some advices regarding nightlife in Phuket

Don't make serious promises you can't keep. Believe it, your life may not be so valueable if you make false promises to lure girls to your intensions. Don't say 'I like/love you' if you don't mean it and be careful if you have many girls, the girls may end up fighting with eachother or with you.
Always practice safe sex and use condom. Be mindful of AIDS! You don't want it. Altought, I have been told that many men don't want to use condom, and I can't believe
it! Either they are very stupid or they already have AIDS? Bad enough, some girls actually do it without condom.
You have to understand that all sexy girls are not females. There are many beautiful 'ladies' that actually are men; transvetites or transsexuals (katoeys). These groups can be extremely rude, dangerous and revengeful if a promise is broken. Be careful.
You fall in love with a girl? Don't give her too much money, use common sense. I have heard many stories about girls getting huge amounts of money from men who love them. The girl may or may not like you. But many girls are actually looking for relationsships with a good man and there are happy stories too.
Cheap Flights to Phuket

Connectiong flights to phuket?

I'm looking to book a flights from London to phuket, but im seeing the connecting flights have arround a 1-2 hours gap after landing, is this adqute time, and what happens if my flight bankock is dealyed are they good about putting you on the next connectiong flight to phuket? or could I be paying again?

I agree with most of the other above answers, I would give yourself at least three hours between landing and your next flight. I live in Bangkok and fly into Thailand and pick a lot of people up at the airport, just to clear immigration and retreive your luggage can easily take an hour sometimes. If you're not on the same airline to Phuket from Bangkok (Thai), don't expect any sympathy from the airline if you or your flight is late, although I'm sure they can put you on a later flight, if there is one. Also, be aware that many domestic flights leave from the old Don Muaeng Airport, which is at least 45-60 minutes away from Suvarnabhumi, so be sure that your flight to Phuket leaves from Suvarnabhumi or leave another hour or more to transfer to Don Muaeng. One other thing you should check carefully is the baggage weight limits on many of the domestic airline flights, airlines like Air Asia have a 15 kg, limit and strictly enforce it, it can easily cost as much or more than your flight if you are significantly over the limit. Aside from all the above, have fun.

yahoo.com