Bangkok
, known in
Thai
as
Krung Thep Maha Nakhon
or
Krung Thep
for short, is the
capital
, largest city, and
primate city
of
Thailand
. It is located on both sides of the
Chao Phraya River
. The western bank is locally referred to as 'Fung Thon' or Thon side whilst the eastern side which pertains the majority of Bangkokians is called subjectively as Krung Thep, the name of the city itself (also called 'Pranakhorn' side).
Bangkok is the
22nd
most populous city in the world .
Attraction
Grand Palace and Wat Phra Kaeo
This inner-city riverine landmark contains several buildings with highly detailed architectural features. Wat Phra Kaeo within the same compound, is a treasure house of Thai arts, and houses the Emerald Buddha, the most revered Buddha image in Thailand.
To help tourists enjoy their tour of the Grand Palace, a Personal Audio Guide can be rented at 100 Baht for two hours. Discs are available in seven languages-English, French, German, Spanish, Russian, Japanese and Mandarin.
Wat Arun (Temple of Dawn)

This famous Chao Phraya riverbank landmark diagonally opposite the Grand Palace, is best known for a porcelain encrusted 79 meter central pagoda (phra prang) which sparkles in the sun. The temple can be reached either by Arun Amarin Road or by boat from Tha Tien Pier near Wat Pho.
Wat Suthat and 'The Giant Swing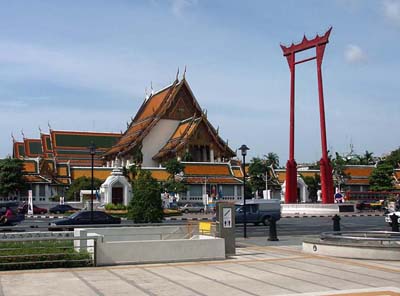 Located on Bamrung Muang Road, this temple is noted for its superb 19th century murals in the main chapel. The distinctive Giant Swing outside the temple was once used in Brahmanic ceremonies long since discontinued. Nearby shops stock a very comprehensive range of Buddhist religious supplies.


Wat Thepthidaram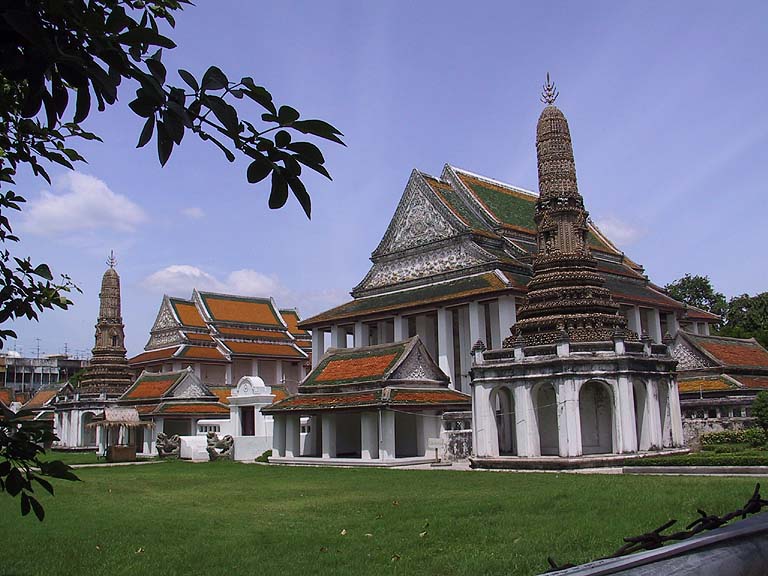 Located on Mahachai Road, the temple was built in the reign of King Rama III with a mixture of Chinese architectural styles. Sunthon Phu, one of Thailand's greatest poets, had resided in this temple during his monk hood from 1840-1842. His residence is now open to the public.

Wat Indravihan


Located in the Bang Khun Phrom area on Wisutkasat Road, this temple is well known for a huge standing Buddha image called Luang Pho To. The image, built in the reign of King Rama IV, is 32 meters tall and 10 meters wide. The topknot of the Buddha image contains a relic of Lord Buddha brought from Sri Lanka.


Wat Ratchanatdaram
Located on Mahachai Road, the temple was built in the reign of King Rama III in 1846. Loha Prasat, the temple's main attraction, standing 36 meters high with 37 surrounding spires, is the only one of its kind left in the world. Next to the temple is the area for welcoming an important foreign guest and a memorial, statue of King Rama III.

Wat Saket and The Golden Mountain


Wat Saket's major feature is the Golden Mount, dating from the 1800s, which overlooks Ratchadamnoen Avenue. The golden chedi houses relics of Lord Buddha and offers a panoramic view of historic Bangkok.

Wat Ratchabophit
The temple is located on Fuang Nakhon Road near Wat Pho. Built by King Rama V in 1869, it was in keeping with tradition that each monarch constructed a temple to mark his reign. The temple is a mixture of local and western styles, showing an awakening interest in new ideas and a desire to experiment with them. The exterior of the chapel is in the That style, but the interior is decorated in the European style.

Wat Pho
This large and extensive temple neighbours the Grand Palace enclave on Thai Wang Road and contains a gigantic gold plated Reclining Buddha some 46 meters long and 15 meters high with inlaid mother of pearl soles. The temple is also regarded as the first center of public education and is sometimes called Thailand's first university.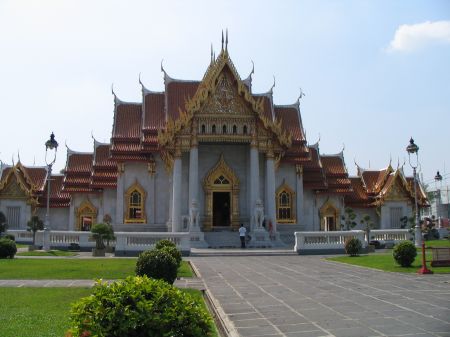 Wat Benchamabophit (The Marble Temple)
Located on Si Ayutthaya Road, near Chitralada Palace, this unique marble temple was constructed during the reign of King Rama V. It employs European ecclesiastic details, such as stained glass windows, and contains a superb cloister collection of bronze Buddha images.


Sanam Luang
This oval public ground in front of the Grand Palace enclave is used for various royal ceremonies, including the Royal Ploughing Ceremony each May, and is edged by several noteworthy institutions.
On the southeast corner is the City Pillar Shrine or San Lak Muang placed there by King Rama I as the foundation stone for the new capital of Bangkok.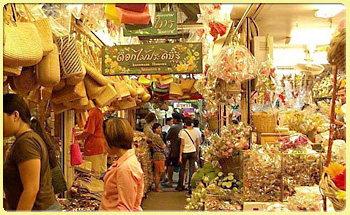 J
atuchak
J
atuchak is a bustling market full of color and activity at weekends. Even on weekdays, Chatujak still offers shoppers a wide range of attractive products, but it is weekends that are special attracting people from every direction to converge on the market and enjoy carefree shopping.
Damnoen Saduak Floating Market
This popular attraction is some 80 kilometers west of Bangkok, accessible by regular bus from the Southern Bus Terminal. Everyday, hundreds of vendor boats crowd the market area in the early morning till noon. Visitors can also travel around by boat to see local villages, and the way of life of the people in the countryside.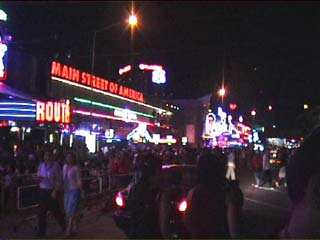 Royal City Avenue (RCA)
The famous area for entertainment, including restaurants, pubs, bars, popular mostly for young people.






Suan Lum Night Bazaar
Suan Lum Night Bazaar
is located at the opposite side of
Lumpini
Park
. The main entrance is on the
Wireless Road
. The large area cover many restaurants and pubs, beer gardens, handicraft / hand-made products shops, and the most interesting corner is where the Joe Louis theater is located.
Patpong Night Bazaar
Patpong road has turned out to be a busy place for shopping at night in the night bazaar. A lot of traders come in the evening and even at
to assemble their small outdoor shops.
Walking along this area is an exciting event for visitors. Many kinds of products, e.g. clothing, leather bags, watches, handicrafts, ceramic, wood carving, paintings, etc. are sold every night.
Not only the night bazaar, Patpong area offers many kinds of entertainment, bars, beer bars, discotheques, pubs, a-go-go dancing, and shows.It is easy to have drinks, refreshment, and foods there.
China Town



Bangkok's China Town is an old business center covering a large area around Yaowarat and Charoen Krung Roads. There are many small streets and alleys full of shops selling all types of goods. The area is always lively and market stalls abound. It has been the main center for trading by the Chinese since they were moved from their old site some 200 years ago. Nearby is Phahurat Market, one of the city's renowned cloth centers.


Soi Cowboy


Soi Cowboy is located between Sukhumvit Road Soi 21 (Asoke) and Soi 23 (Prasarnmitr). The atmosphere is for nightlife enjoyment. There are beer bars, pubs, A Go Go bars and many shops.


Siam Square


S
iam Square
is a very popular shopping area among Thai and foreign visitors. The area is centrally located and surrounded by hotels, shopping complexes, movie theatres, and it is the main junction of sky train.

Sukhumvit , Soi 24
Sukhumvit , Soi 24 has a lot of entertainment centers, pubs, bars, and restaurants. The famous seafood restaurant is easily found
when you enter this road. There are also Japanese, Vietnamese, Thai and European restaurants.
Dusit Zoo
Located near Chulalongkorn Hospital, on the corner of Henri Dunant Road and Rama IV Road, this institute contains a collection of poisonous snakes which are "milked" daily for their venom in order to produce invaluable anti-snakebite serum.

Safari World
Bangkoks greatest open zoo and leisure park is located in Mm Buri, via Km. 9 on Raminthra Road. The 300-acre complex comprises a Safari Park populated by African and Asian mammals, a Marine Park with amusing performances of well-trained dolphins and seals, a Bird Park and a Games Corner.

Attractions on Ko Kret



Pottery Village is located along the pathway around the island. There are some huts where visitors are able to see through the pottery making process. Villagers make various kinds of earthen products for daily use such as pots, mortars, and flowerpots. This is the oldest and biggest source of earthenware in Nonthaburi province, in the village, there is the Ancient Mon Pottery Center where pottery in various style is exhibited.
Wat Paramal Ylkawat was constructed in Mon style over 200 years ago. King Rama V commanded to renovate the monastery dedicated to his grandmother and to construct Phra Maha Raman Chedi (a chedi in Mon style) to house Buddha relics. The principal Buddha of the monastery is carved with marble in Mon style, so it is also called "Wat Mon" (Mon Temple).
Wat Phal Lom is well-known for the magnificent bot (ordination hall) in the Ayutthaya style. Some parts have been changed due to renovation. Behind the bot, there is a chedi in Mon style.
Wat Sao Thong Thong houses an old Ayutthaya style chedi and was the first secondary school in Pak Kret.

Besides, There are many other interesting ancient monasteries most of which were constructed in the Mon and the Ayutthaya styles.
Trip Along The Chao Phraya River

On both sides of the Chao Phraya River, a tourist can see many magnificent temples and architectural buildings including the First Presbyterian Church, the Royal Thai Navy Dockyard, the Thai Maritime Navigation Company, the Old Customs House, Wat Prayunwong, Wat Arun, the Grand Palace, Wat Rakhang Kositaram, and the Royal Boat House.