Ko Samui
Ko Samui is a 247 km² large island located in the Gulf of Thailand, in the province of Surat Thani. It is, by many people, considered as one of the most beautiful islands in the South-East Asia region. Foreign tourists started to explore Samui in the 70s and today the island is a modern tourist destination with paradise like beaches.
Attraction


Chaweng beach
Had (beach in Thai language) Chaweng is found on the island's East coast and it is the most popular beach on Ko Samui. Soft sand and shallow water makes Chaweng beach perfect for sunbathing and swimming. The 8 kilometer long beach road is pretty much covered with cozy restaurants, resorts, hotels and bars.
Lamai beach Had Lamai is situated a few kilometers South of Chaweng and is the second most popular destination on Ko Samui. The 6 km long beach has a little grainy sand and the deep water is perfect for swimming, especially in the Southern and middle parts of this beach. Even if the Lamai area is growing, the relaxed atmosphere is still dominating.
Ao Thong Takian

A small almost idyllic beach North of Lamai with five small resorts. A lot of corals is found on the sea bed (mind cuts) and some days the water is very clear and turquoise and then suitable for snorkeling.

Maenam Beach
Maenam beach is found on the Northern part of the island and one of Samui's calmer beaches. Many families chose to rent a bungalow along the 5 km long beautiful beach. At low season the beach can be almost "empty of people".
Bo Phut Beach
A rather quiet and calm beach which earlier functioned as a fishing village for the local fishermen. The traditional house of teak tree can still be found in the small village. Even if there is no extensive nightlife found in Bo Phut, you will still find a number of cozy seafood and fish restaurants that work as natural meeting point.
Choeng Mon Beach
This beautiful but rather short beach is found in the North-East parts of the island. Here you will find mostly three, four and five star resorts. A perfect place for families and couples who are looking for a pleasant and convenient holiday. Choeng Mon beach is also located rather close to the airport and Chaweng.

Bang Por, Lipa Noi and Taling Ngam
Three quiet and long beaches on the North-West and West coast of Samui. For people who prefer a calm, very relaxed vacation. At low season, these beaches are often almost empty of people, but a some restaurants and resorts are to be found here.
Ang Thong National Marine Park
West of Samui you will find the group of islands that together create the well kept National Park of Angthong. Quiet beaches and a wild jungle make the park one of Surat Thani's greatest attractions. On the parks main island, Ko Wua Talap, you will find the highest top in the area. The 430 meter high view point can be reach after a one hour tough walk. Kayaking, snorkeling and a visit to the hidden lagoon is some the parks most popular activities. The famous movie; The Beach, takes place on a figurative island in the North part of the park. The park can be reach by boat from Samui and the traveling time is approximately 90 minutes.
The Big Buddha
Samui's most popular attraction, The Big Buddha sitting 15 meters tall was built in 1972 by the local society to give visitors a place to pay respect to The Lord Buddha. This monumental landmark is placed on the island's Northern shore.


Coral Buddha Formerly one of Samui's main attractions, this small, dilapidated statue is now only visited by Buddhist devotees. Although it is in a state of disrepair, the Coral Buddha is still revered and is a place of worship for the monks from nearby Wat Sumret. The only direction sign is a small tatty board parallel to the road which is easy to miss when driving past. It is on the 4169 ring-road approximately 800 meters West of Hua Thanon.
Kunaram Temple - Mummified Monk
The body of Samui's most famous mummified monk, Loung Pordaeng, is on display here in a specially constructed building. When he died more than 20 years ago, he was sitting in a meditation position. He is still in that same position and his body shows few signs of any major decay. Wat Khunaram is on the 4169 ring-road between the Na Muang waterfalls and Hua Thanon
Wat
Plai Laem
Wat Plai Laem is located in the north of Samui on road 4171 from Big Buddha to Choeng Mon Beach. The temple is famous for the hundreds of big fish enjoying their live in the lake of the temple and waiting to be fed (Food for the fish is available at the temple for a small donation of 10 Baht per pack). Wat Plai Laem is one of the most colorful temple on Samui and features an 18 arms strong Buddha statue set in the middle of the lake
Namuang Waterfall
Na Muang Waterfall is located 10 km south from Nathon at Ban Thurian. There are 2 waterfalls. Na Muang one is 18 meter high and can be reached by vehicle.
Na Muang two is about 80 meters high and can only be reached by a 30 minute walk. The waterfalls are the most scenic on the island
.
Hin Ta - Hin Yai

Strangely shaped rocks at south Lamai.
A local story tells of an old couple whose ship was wrecked in the bay. Their body's were washed ashore to create the rocks
.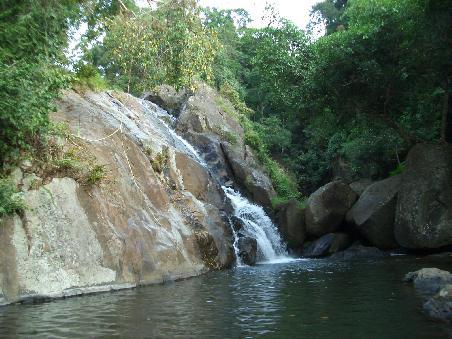 Hin Lad Waterfall

Hin Lad Waterfall is located 2 km south of Nathon Town.He can be reached by a 3-4 kilometer walk down a country foot walk. In evergreen, rain forest setting with palms and creepers, the waterfall have several levels with a cool pool for a fresh water swim.


Magic Buddha Garden
The magic Buddha garden is hidden in the hills of Samui. You can see several statues, temples and waterfalls which are build by one man in the last 20 years.






Ancient House

A house made of teakwood without any nails at Ban Thale is the oldest house on the island. It was built approximately 150 years ago, is constructed of teak planks and shows off many beautiful woodcarvings.


Butterfly Garden
Na Tian Butterfly Garden is situated at the bottom of the hill south of the island. Apart from the numerous species of butterflies on display, there are also other interesting features in the garden: The bee house, a Thai style house which allows the visitor to observe the activities of bees. The insect museum, rare insects from Thailand and other countries are displayed here.




Snake Farm
A definite must see for all those visiting the island. Shows featuring snakes indigenous to Samui as well as Centipede, Scorpion and Cock Fighting shows. Informative and entertaining. Great for the entire family and worth looking for. Follow the signs seen throughout the island. Show times are 11.00 and 14.00 everyday.


Paradise Park Farm
Samui's lates and biggest attraction! Set on 20 acres of land, Paradise Park Farm is a spectacle. Spend a day, or two, in the cool air of Samui's highest mountain covered by tropical rainforest. Surround yourself by water falls, small rivers, canyons and exotic birds and wildlife.

Thai Boxing
The undisputed national sport of Thailand, a Muay Thai professional bout can be seen at the Chaweng Stadium every Monday and Friday, while the Lamai stadium stages fights every Saturday.


Buffalo fights

A traditional fighting show, in which betting with money plays a large part. The buffalo fights are very popular among the native Thai population and the event takes place in a large arena where two buffalo fights in a natural struggle, which often (but not always) goes by without bloodshed. The fight is normally over when an animal surrender by escaping the fight.
Nightlife
Disco

Nightspots offerings here vary from a lounge in the bar to disco dancing. You can't expect Pattaya or Bangkok here, but you will certainly not miss excitement if that's what you are looking for.

The open-bars beckon for some lazy talks; for pepping up for the big party later, which most all travelers here revel into. The Jazz Junction which is at Chaweng Beach Road provides you an ideal place to simply chat and dawdle on. It's quiet elegance is boosted by divine cocktails, cool, jazz, smooth grooves and sunshine soul. The Thai-house-inspired bar is open from 4 p.m. to 2 p.m.


You can also head off to The Club where a different atmosphere greets you: warm candlelight's and electric music acid jazz, soul, funk, mellow grooves and a rare feeling of one ness with the crowd. How about some light entertainment? Then come to the Christy Cabaret, Samui's own brand of cabaret. After that slow but sure gearing up, you are then ready for Samui's frenetic body ventures.

One of the most popular discos is the Green Mango. Dancing starts 10 p.m. and lasts until the wee hours of the morning. The big dance floor throbs with a crowd sweating it out to the latest disco tunes. But you can also have an open space with tables just a little farther from the main dance floor.

The popular Reggae Pub in Chaweng, noted for its logo which shows the face of Bob Marley. Reggae music (what else) is the fixture here and a live band leads you to wild dancing.

And at Lamai beach, you have the main party place - Bauhaus. Screens showing live sport events capture some people but it is because Bauhaus is for everyone's enjoyment. The place sets a different theme on certain days and there is also a night for your dancing shoes to be polished since true-blue underground music will charm you.


Cabaret
Cabaret shows are relatively new in the Samui scene. But slowly, the shows are gaining adherents both locals and foreigners. The show is patterned over the elaborate musicals and features songs and dances (with a mixture of Chinese and American songs and including classical and modern Thai dances) spiced up with gags by popular comedy acts as available on the island.
The glamour of the performers are probably the main attraction, though. These performers excite the audience with their glittering costumes, made to complement the dazing production designs. Bring your whole family and spend a wonderful time with cabaret show.



Live Music

The Beach Pub at Secret Garden has become one of South East Asia's leading venues during the last 5 years. Musicians, both pro and semi-pro have the chance to play stress free, on a wonderful beach, with other musicians from all over the world. If you're a musician and are planning a visit to Thailand, come and join us. We have professional equipment, have instruments and professional staff on the engineering side. These sessions take place every Sunday afternoon from 4p.m. until 8p.m. and usually attracts a crowd of 2 to 3 hundred people, all in a party mood.