Chiang Mai
Chiang Mai
is the hub of
Northern Thailand
. With a population of over 170,000, it is Thailand's fifth-largest city. Located on a plain at an elevation of 316 m, surrounded by mountains and lush countryside, it is much greener and quieter than the capital, and has a cosmopolitan air and a significant expat population, factors which have led many from Bangkok to settle permanently in this "Rose of the North".
Inside Chiang Mai's remaining city walls are more than 30 temples dating back to the founding of the principality, in a combination of Burmese, Sri Lankan and Lanna Thai styles, decorated with beautiful wood carvings, Naga staircases, leonine and angelic guardians, gilded umbrellas and pagodas laced with gold filigree. The most famous is Doi Suthep, which overlooks the city from a mountainside 13 km away.
Modern-day Chiang Mai has expanded in all directions, but particularly to the east towards the Ping River (Mae Nam Ping), where Thanon Chang Klan, the famous Night Bazaar and the bulk of Chiang Mai's hotels and guesthouses are located. The locals say you've not experienced Chiang Mai until you've seen the view from Doi Suthep, eaten a bowl of kao soi, and purchased an umbrella from Bo Sang. Ratchadamneon Rd, the main walking street from Thapae Gate to the very popular Wat Phra Singh, is fast becoming the place to go in the evening if you want somewhere a little more relaxed.
Attraction
Temples
Wat Phrathat Doi Suthep,the most famous temple in the area, standing on a hill to the north-west of the city. This temple dates from 1383. Its builders allegedly chose its site by placing a relic of the Lord Buddha on an elephant's back and letting the elephant roam until it came across a place where it trumpeted and circled before lying down. The onlookers took this as marking an auspicious place to build the temple. The temple's location also affords superb views over the city on a clear day.
Wat Phra Singh
, ocated within the city walls, dates from
1345
and offers an example of classic northern Thai style architecture. It houses the Phra Singh Buddha, a highly venerated figure, transferred here many years ago from
Chiang Rai
. This temple is one of the most important temples in the city. Visitors can also take part in meditation classes here at set times.

Wat Chiang Mun
, Rajpakinai Road. The oldest temple in the city. Presumed to date from the
year Chiang Mai was founded (1296), it is famed for two Buddha images, which according to legend are 1800 and 2500 years old. King Mengrai allegedly lived here while the city of Chiang Mai was being constructed. Enshrined in Wat Chiang Mun is a tiny crystal Buddha called Pra Seh-Taang Kamaneeee, which is thought to have the power to bring rain. Another image, called Phra Sila Khoa, reflects the fine workmanship of Indian craftsmen from thousands of years ago.



Wat Chedi Luang
, founded in
1401
and dominated by the large Lanna style
chedi
which dates from the same time, but took many years to finish. An earthquake damaged the
chedi
in the 16th century and now only two-thirds of it remains.





Wat Phra Jao Mengrai
, off Ratchamankha Road (
near Heuan Phen
). An atmospheric wooden temple away from the beaten track, quiet and gently crumbling in the absence of tourist hordes.


Wat Oo-Mong
, off Suthep Road. An ancient temple in the forest just outside Chiang Mai. King Mengrai built this temple for a highly respected forest monk who liked to wander in the countryside, hence the isolated location where the monk could stay quietly and meditate. It is unusual in that it has tunnel-like chambers in the ground, some of the walls of which still have the original paintings of birds and animals visible.



Wat Suan Dok
: a 14th century temple located just west of the old city-wall. The temple was
built by the King of Lanna for a revered monk visiting from Sukhothai to spend the rains retreat. The name translates as "the field of flowers temple." There are several unique aspects to this temple. One is the temple's large ubosot (ordination hall). This is unusual not only for its size, but also that it is open on the sides instead of enclosed. Secondly, there are a large number of chedis housing the ashes of the rulers of Chiang Mai. The temple is also the site of Mahachulalongkorn Rajavidyalaya Buddhist University.
Museums
Chiang Mai City Arts & Cultural Center
Standing on the location of a former royal hall, the building was used as the central administrative unit of Siam, and later as the Provincial Hall of Chiang Mai. This place was received an award in 1999 for preservation of a public building from the Royal Society of Siamese Architects (Society of Siamese Architects under Royal Parsonage).

The museum has been divided into two sections. The front (eastern) part of the square-shape building contains permanent exhibits, while the rear section of the building has been dedicated to cultural activities, temporary exhibits, a souvenir shop, lecture theatre and exhibition hall for Lanna arts and an archive.


Hilltribe Research Institute Museum
a part of the Public Welfare Department. This ethnological museum has collections illustrating the cultures of 10 tribal groups or subgroups: the Hmong, Karen, Mien, Akha, Lisu, Lahu, Lua, Thin, Khamu and Mla Bree. There are exhibitions of their lifestyles; their costumes, beliefs and education, using only materials derived from the tribal peoples own hands. Such is the quality of the material at the museum that it is used as a research and study centre.
Elephants

Elephant Nature Park
, Approximately 60km north of Chiang Mai. This is a sanctuary for rescued and distressed elephants. They are not here to perform or do tricks but people visiting here will leave with a whole new understanding of these magnificent creatures.
Maesa Elephant Camp
, 119/9 Tapae Road, Muang District,
+66 53
-206247 or
+66 53
-206248, An elephant camp in the hills about a half hour's drive north of the city center. It has an elephant show, which includes elephants playing football and painting. You can also take half hour or one hour elephant rides. Not exactly a place to bring a PETA activist, but many do enjoy the performances.


National Park

Doi Inthanon National Park :
The 1,005 - square - kilometer park covers Thailand's highest mountain (2,565 meters). The lovely Wachirathan, Siriphum and Mae Pan waterfalls share the mountain with Meo and Karen hilltribe settlements. Forest above 1,800 meters is covered with lichens and wild orchids.
Mae Fang National Park

Mae Faang National Park is rich with lush vegetation, home to various species of wild animals like jungle fowls, wild pigs, pythons, and a colourful variety of birds. Besides its fresh and cool weather, Mae Faang National Park has spectacular waterfalls, caves, and hot springs. The great attractions of this National Park are Tard Mork Waterfall, Ponk Nam Daing Noi Waterfall, Mae Teap Waterfall, Doi Ang Klang, Doi Pa Hom Pok, Houy Pon Cave, Mae Jai Brook, and Ponk Hot Spring. Things to do include; mountain climbing, picnicking, forest trekking, cave exploring, bird watching and nature sightseeing.


Chiang Dao National Park In the same area as Chiang Dao Wild Animal Protection Area and Sri
Lanna National Park, this forest is the source of two rivers in Chiang Mai; the Ping and Mae Tang rivers. The area is a complex of mountains and fertile forests. The natural highlights of this National Park are Sri Sangwan waterfall, Pang Tong waterfall, Nivet Hole of Water, Krab cave, Tab Tao cave, Doi Pha Tang and Doi Bha Dang where you can have a magnificent view from the top of the mountain. Additionally, this area has several interesting historical sites. This park is the habitat of rare animals such as goral, wild boar, barking deer, banteng, guar, porcupine, langur, palm civet, squirrel, chipmunk, many kinds of bird and reptile. Many kinds of frogs and toads are found near the rivers.

Mae Tho National Park

Covering the areas of Mae Line forest reserve in Hod district and Pha Mae Chaem forest reserve in Mae Chaem district of Chiang Mai province. The mountain extending northwards is in the same mountain range as Doi Inthanon. The park covers 990 square kilometres of forested mountains. The average altitude of the area is 1,000 metres above sea level. Doi Kew Rai-mong is the highest mountaintop (1,699 metres above sea level). Evergreen forests are found in the north. In addition, dry dipterocarp and pine forests are found in Hod district and elsewhere. Mixed deciduous and hill evergreen forests also exist in the park. A great variety of wild animals can be seen in the park. Activities include; mountain climbing, view points and rafting on the Mae Chaem river. A camp site is available, however, tourists have to bring their own equipment

.
Waterfalls
Huay Sai Lueng Waterfall

Quite close to the Mae Pan waterfalls can be found the powerful, year-round Huay Sai Lueng Waterfall. The parking area is close by and shelters for visitors are plentiful. Although it is a multi-stepped cascade, lacking the drama of a single drop through space, this waterfall looks very beautiful as it dances through the rocks and trees.




Mae Klang Waterfall : Chiang Mai's most photographed waterfall lies some 58 kilometers west of the city at the foot of Doi Inthanon Mountain, and provides a picturesque setting for picnics and relaxation.
Mae Ya Waterfall : Take the Chiang Mai-Jomthong route, turn right at the kilometre 56-57 marker, after about 1 kilometre, turn left and keep going for about 7 kilometres. Here visitors can picnic at the area's tallest waterfall, some 250 metres high. The fresh water splashes down over 30 tiers of rocks and boulders into a small pond.
Mae Pan Waterfall About 16 kilometres from Mae Chaem town, on the road leading to Doi Inthanon, the awesome Mae Pan Waterfall can be found. There is a sign at the roadside directing travellers to these falls, the highest in Chiang Mai. Take the sign-posted road and follow it for 9 kilometres, then a 10 minute walk will bring you to the falls. Surging over a 100 metre high cliff, the white of the racing water stands out dramatically against the deep green of the surrounding forest. As the water hits the rocks below, a million tiny drops split the sunlight into rainbow colours and soak the vegetation nearby. Downstream from the falls are a series of pools where the traveller can swim in the chilly mountain waters. The sala on a mound close by the falls, affords a shady place to sit and enjoy a panoramic view of the waterfall.
Shopping
Night Bazaar - How can you go wrong with the Night Bazaar? Over the past two decades trends have been set (and copied) by innovative and smart Night Bazaar shop owners. The products and trends available at the Night Bazaar change constantly so it's still an exciting place for locals to occasionally shop, as well as for tourists looking for souvenirs. Open daily between sunset and midnight, the Night Bazaar is the place to go for souvenirs, handicrafts, fake goods, textiles, and other knickknacks.
Walking Streets: Roads are closed to traffic and a festive vibe of shopping, eating, drinking and hanging out with friends are what draws the crowds to these events?
Kad Sum Murd (Midnight Market) - Kad Sum Murd, which means Midnight Market, takes place in front of Kad Suan Keaw department store on every Thursday to Saturday from 6 p.m.-11 p.m., it is lit up by candles creating a surreal shopping experience with a variety of cheap and cheerful products from northern Thailand.
The Wisdom of Lanna Arts & Craftsmen Walking Street - This market showcases art from 21 villages, including the Yong,
a popular group from the north. The Yong are known for their unique handicraft techniques. They are famous for their elephant wood carvings, bamboo products, souvenirs, for drawing pictures on cloth, creating dolls made from cloth, and more. This fair is at Buak Kang, Sankamphaeng District, every Saturday from 4 p.m.-11 p.m., the fair covers a distance of four kilometres, offering a wonderful variety of ethnic products and exhibitions on these peoples ways of life.

Wualai Walking Street - At Wualai Road every Saturday from 5 p.m.- late. The famed old silver street sells souvenirs, silver products, home decor and more.
Ratchadamnoen Walking Street - At Tha Pae Gate and along Ratchdamnoen Road., every Sunday from 5 p.m.- midnight. The perfect place to spend a Sunday evening, shopping, drinking, eating, watching the crowd go by, enjoying buskers, sales, artists, etc. Nice vibe.
Shopping Malls - Central Airport Plaza and Kad Suan Kaew are both massive shopping malls, a cool and different venue for summer or monsoon season shopping. Lots of teen knickknacks as well as brand name outlets.
JJ market was established with determination to create a perfect gathering place of Chiang Mai's finest arts, craft products, clothing, accessories for garden or house, luxurious and unique home décor and souvenirs, sadly it hasn't quite managed to gather the crowds as expected. However, if you are looking for quality arts and crafts, it is well worth a visit. Located on Atsadathorn Road, considered as the most modern public utility road with all of the power lines embedded underground, this 15- rai Kad or Open Market is only 200 metres from the Super Highway.
Other
Bhuping Palace
is located on the same road beyond Doi Suthep (22 km from town). This royal winter palace has lavishly landscaped gardens and is open to the public daily 08:30-11:30 & 13:00-15:00 when the Thai royal family is not in residence. 50 baht for foreigners, 20 baht for locals, 10 baht for children.
Chiangmai Zoo
,
at the foot of Doi Suthep, Home to over 7,000 animals in a wooded natural environment. Its popularity was boosted recently when it received a pair of Giant Pandas from
Sichuan
,
China
.
The


Chiang Mai Foreign Cemetery
is a serene place of history and remembrance. It's on Thanon Chiang Mai-Lamphun about 800m north of the Holiday Inn (formerly the Sheraton). It's on the east side of the Ping River to the southeast of the old city.
Chiang Mai Night Safari
is far from city about 10 km.The Safari offers a series of trails over three main zones.The Jaguar Trail offers visitors a walk of around 1,200 meters and is open during the day and at night.
The Savanna Safari and Predator Prowl areas use rail cars to move visitors around.
This is the ideal opportunity to observe wildlife at night.

Fang Hot Springs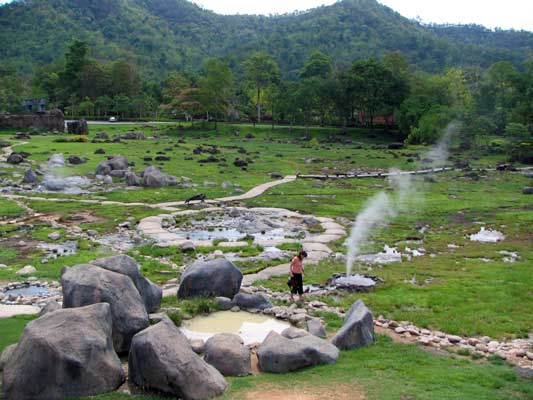 Hot springs shooting up to the sky in this large national park on the outskirts of Chiang Mai. This large park is situated at the northern limit of Chiang Mai Province and has a long border with Myanmar (Burma). It is one of the least spoiled areas of Thailand. Doi Pa Hom Bok Clum, 2285 meters high, is the second tallest mountain in Thailand, strong winds blow all round and have caused the mountain to have a flat top from where there is a magnificent view. There are several spectacular waterfalls and caves. The splendid virgin forest contains a wide range of unusual and rare flora and fauna.


Wiang Kum Kam
is and ancient town founded by King Mengrai.The main historical remains are: Wat Chedi Liam,Wat Chang Kham,and chedi bases at Wat Kum Kam and Wat Noi,etc.Wiang Kum Kam is Located on Chiang mai-Lumphum Road, 3-4 Km.from town area of Amphoe Saraphi.




Borichinda Cave :
Visiting the cave, which provides a pleasant setting for picnics, entails a 10-minute drive and a walk of some 2 hours from the Mae Klang Waterfall.

The Bulldog
is a shop/museum of Coca-Cola things inside the basement Night Bazzar. This is one of the most big collectors of Coca-Cola stuff in Asia. Old pieces, posters, glasses, cans and everything about this drink. Room 21, Basement Night Bazzar, ph: 081 6029345



Nightlife

One of the best features of Chiang Mai is its diversity and the nightlife bears this idea out. Whether your idea of a good time is a classy bar with a nice view and live music or thumping beats, flashing lights and a packed dance floor, you'll be able to find it in Chiang Mai. All over the city you will find hotspots that cater to a wide range of crowds. There are tiny corner bars perfect for a quiet drink and a chat, Rasta bars for the bleary-eyed dreadlocks crowd, high end joints
with great live
music, high-energy nightclubs to get your boogie fix and college bars catering
to the many young Thais who study at the local universities.
Chiang Mai loves to party and you'll find the atmosphere in the nightspots to be very welcoming and relaxed. If there's a downside to Chiang Mai nightlife it's the local regulation stating that all bars must close at midnight. This unpopular law has drawn complaints from all quarters but at the moment there are only a few places licensed to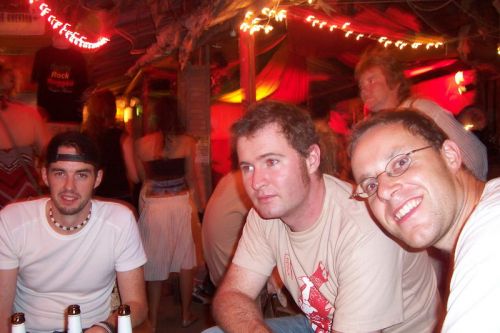 stay open until 02:00. Having said that, many places simply ignore the rules and if you keep an eye out you can usually find someplace open after hours.