Krabi
Krabi Province
is on the west coast of
Southern Thailand
, and shares borders with
Nakhon Si Thammarat Province
,
Phang Nga Province
,
Satun Province
and
Surat Thani Province
, as well as the Andaman Sea.
The distinguishing feature of both Krabi and neighboring Phang Nga is the massive limestone karsts, rising vertiginously out of the flat rice paddies on land and as islands from the sea. Add in some gorgeous beaches and excellent scuba diving and rock climbing, and it's little wonder that tourism in the area has been booming.
While less commercialized than neighboring
Phuket
, Krabi Province cannot be described as undiscovered: it receives two million visitors a year, and the major tourist areas cater extensively for foreigners.
Acttraction

Beaches
Formally Ao Phra Nang ("Princess Bay") although everybody uses the short form, Ao Nang is the most 'Westernized' beach in Krabi, originally a backpacker hotspot but now moving slowly upmarket as the airport brings in higher flyers. While not quite as scenic as Rai Leh, there is a good range of cheap accommodation, many good restaurants, easy transport and travel/tour agencies ready to cater to your every whim, making it a good base for exploring Krabi.Orienting yourself in Ao Nang is easy: almost everything is located either along the beach, which runs west-east, or along the Airport Road (Highway 4203) which goes up north from the east end of the beach. Long-tails arrive on the beach near the junction of the two roads.
Rai Leh
, also commonly known as
Railay
, is a tourist area located on the Andaman Coast of
Thailand
, in
Krabi Province
. Rai Leh is primarily known as a rock climbing hot spot, attracting climbers from all over the world to its superb towering limestone
.
Ton Sai
is a beach near
Krabi
in
Thailand
, offering a combination of inexpensive accommodation and great rock climbing routes that make it popular with both backpackers and climbers alike. Compared to neighbouring
Rai Leh
and
Ao Nang
it's relatively rough around on the edges; in particular, the beach is unsuitable for swimming and becomes quite rocky as the tide goes out.





Hat Yao

This is a long beach that extends from a sharks fin shaped mountain to the north. Located at Mu 6 in Tambon Ko Libong, the beach is dotted with lovely sea pines and is therefore very suitable for camping. Private accommodations are also available.

Island
Ko Jum
is a small island between
Ko Lanta
and
Krabi Town
. While the south end of the island is known as Ko Jum (or Jam or Cham), the northern part is also called Ko Phu (or Pu), and local villagers take fierce pride in the two different names. Ko Jum has three main villages and is home to about 1500 permanent local residents. On the west side of the island are about 20 resorts which provide very simple bungalow accommodation.



Ko Lanta
is an island district off the west coast of
Thailand
. Like many other destinations in
Krabi Province
it is known for its diving and long white beaches.
Ko Lanta is in fact a district consisting of several islands. The two largest are Ko Lanta Noi and Ko Lanta Yai. Although Ko Lanta Noi is inhabited, Ko Lanta Yai is the primary tourist destination and this article discusses Ko Lanta Yai.
Ko Lanta is popular with tourists seeking a holiday away from the parties. It's popular with a significantly older crowd than nearby Ko Phi Phi: more walking on the beach and watching the sunset than drinking and dancing. However, there are plenty of bars and the longer term stayers are friendly and know how to party! It is also popular with families with young children, and of course, with divers. You could say that while Phi Phi is chicken barbecues and Mekong buckets, Lanta is chicken flesh and buckets and spades. But you'd be wrong. Ko Lanta can certainly provide a party if you know where to look.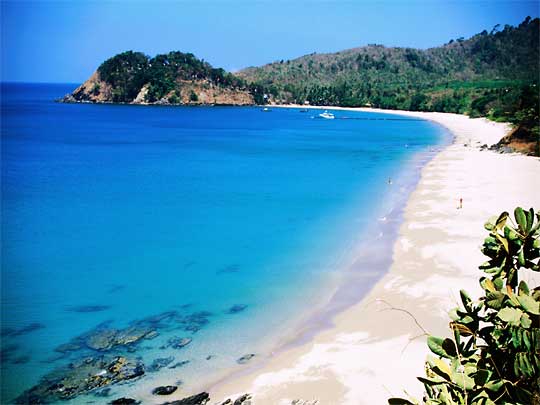 Ko Lanta is a little less well-known than Ko Phi Phi, which has become more commercialised and corporate, but it is hardly undiscovered: the several beaches on the west coast of Ko Lanta Yai are each strung with a line of resorts and bungalows, although the farther down the island you venture, the less this is true. And even when the island is at it fullest, there will be a quiet place for you to relax - the beaches are never full. Ko Lanta is especially popular with Swedish tourists: although the "tourist language" is English as it is in most places in Thailand, and you will find menus and so on are translated into English, expect the poolside language to be Swedish much of the time. However, there are still many English and Irish bars and restaurants to visit.
Ko Lanta sustained limited tsunami damage in December 2004, but virtually all businesses are now operating normally again. Around 20 people perished.
Lanta Old Town is a small village on Ko Lanta's East side. It's one of the region's most culturally diverse with Chinese merchants, original Thai fishing families and an ancient Sea Gypsy community. Many years ago, Ko Lanta's Old Town acted as the port and commercial center for the island and provided a safe harbor for Arabic and Chinese trading vessels sailing between the larger ports of Phuket, Penang and Singapore. Today, Old Town is the district capital; it has a post office, police station, Buddhist temple, Chinese temple and the island's hospital as well as a long pier. It's a charming place to visit and boasts many good restaurants and interesting shopping like handmade Hammocks and an original Batik and Art Gallery. It's also a great jumping off point to other Islands like Ko Bubu and Ko Talenbeng.
Ko Phi Phi is a small archipelago in Krabi Province.

The named islands are:

Ko Phi Phi Don, the largest and only populated island.

Ko Phi Phi Leh (also known as Ko Phi Phi Lai), a smaller island to the south, popularised when parts of the movie "The Beach" were filmed there. Uninhabited apart from bird nest harvesters and a few Maya Bay wardens; expect plenty of tourists during daylight hours, especially in Maya Bay, the beach of the eponymous movie.

Ko Phai ('Bamboo Island'), a small low-lying islet to the north of Phi Phi Don with several good beaches.

Bida Nok and Bida Nai, two small adjacent limestone karsts to the south of Phi Phi Leh, with near-vertical cliff walls rising from the sea.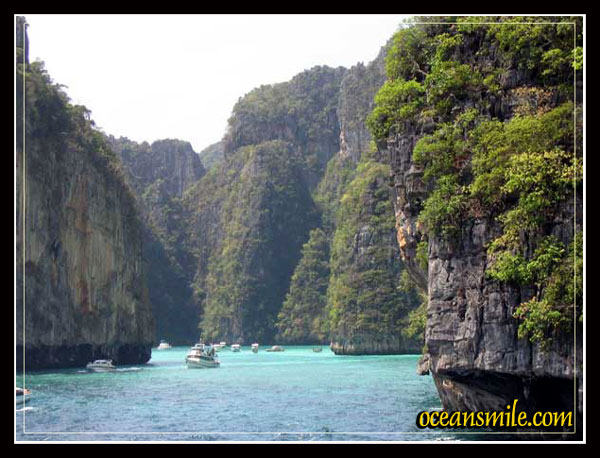 Although rapidly becoming less and less attractive due to the masses of tourists as well as the construction on the island, it's still a very beautiful place to visit, and is one of those places everybody should go at least once in their lifetime. Although the beaches are not the best in Thailand, the place has a good vibe and nightlife and there are dozens of dive shops to choose from.
Most of the (over)development of Phi Phi Don is situated in or around Tonsai village, which is on the low, sandy isthmus that joins the two hilly spurs that comprise the rest of the island. There are also other, quieter resorts on Long Beach, Laem Thong, and at other less accessible areas of the island.
Ko Phi Phi was devastated by the Indian Ocean tsunami of December 2004, when nearly all of the island's infrastructure was wiped out. Redevelopment has, however, been swift, and services like electricity, water, Internet access and ATMs are up and running again, but waste handling has been slower to come back online.
It should be noted that, while very laid back, many of the local islanders are Muslim. You will lose considerable respect if you walk around town in your skimpies (this applies to Buddhist areas of Thailand too!). While many tourists do in fact parade down Main Street in their Speedos or thong bikinis, to avoid offending your hosts, it's usually best just to throw on a pair of shorts or a sarong; similarly, toplessness on the beaches, while grudgingly tolerated by most locals, is also probably best avoided.
Viewpoint - walk up to the Viewpoint, 186 metres above sea level (a very steep walk of between 10-25 minutes, depending on fitness), to get a breathtaking view of the entire island - particularly at dawn or sunset (bring a flashlight). You will be surprised at how narrow the sand strip is between the two main parts of the island.
Tsunami Memorial Garden - by the Tia and Millie Sunflower Bar; a beautiful place for quiet contemplation and paying one's respects to the victims of the recent tragedy.
Fireshow - there are severalhighly skilled and entertaining fireshows held nightly in several venues on the island, including at Carlito's, Apache Bar, Hippies, Carpe Diem, and The Tia and Millie Sunflower Bar on Lohdalum.

Ko Siboya
is a small island 20 Km south of
Krabi
in
Southern Thailand
.
Ko Siboya (see-boy-ya) is off the regular tourist trail. Other than the island's one resort, you will find only a few local stalls selling household supplies, snacks and petrol as you explore the local culture. Ko Siboya is home to about a 1000 or so residents whose work is mainly in the rubber plantations or fishing. Dirt roads and foot paths connect the 4 or 5 small communities on this 3 x 10 km island. The lack of easy access to the island has limited transportation to either motorcycles or walking. A new community clinic is able to handle minor medical problems.
Ko Siboya escaped the destruction of the crushing tsunami of December 2004, as it was in the lee of Ko Jum, but did have to deal with the high water surge which devastated the island's fishing fleet.
Tsunami 2004
Krabi Province was badly hit by the Indian Ocean tsunami of December 2004. A year later, signs of the damage are now hard to find in many places, but in the worst hit areas (especially Ko Phi Phi and Khao Lak) reconstruction is still ongoing.