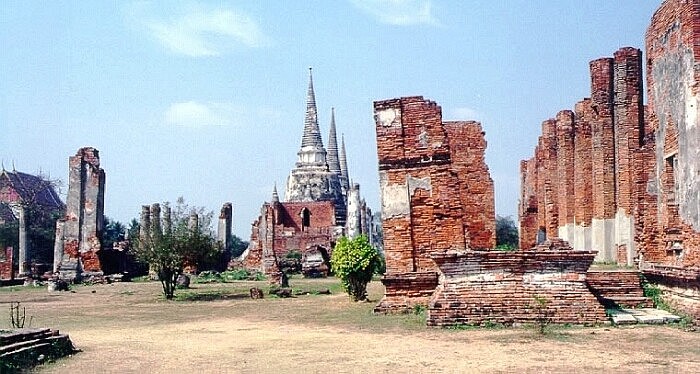 Ayutthaya
full name Phra Nakhon Si Ayutthaya is an ancient capital and modern city in the
Central Plains
of
Thailand
, 85 km to the north of
Bangkok
. Ayutthaya was originally known as "Ayothaya" which refers to the capital of King Rama (see Ramayana). When King Naresuan the Great defeated the Burmese, he changed the name of the city to "Aytthaya" meaning "the undefeatable city".. Among Thai cities, Ayutthaya's English name is probably the least standardized - it is also known as Ayotaya, Ayothaya, Ayudhya, Ayutaya, Ayuthaya and Ayuttaya.
Most of Ayutthaya's sites are on the protected western half of the island, while the modern city sprawls to the east. There are additional sites off the main island.
Temples
The temples with entry charges are usually in ruins, so there is no dress code, although visitors are still requested to refrain from blatant stupidity like clambering up the Buddha statues. Working temples tend to charge no fees and there are often no officials to check that dress is appropriate.

Wat Phra Si Sanphet (Sri Sanphet Rd) is the largest temple in Ayutthaya, known for its row of chedis (Thai-style stupas). Housed within the grounds of the former royal palace, the wat was used only for royal religious ceremonies. It once housed a 16-meter Buddha covered with 340 kg of gold, but the Burmese set fire to the statue to melt the gold and destroyed the temple in the process. Entrance fee of 30 baht.

Viharn Phra Mongkol Bopitah (Sri Sanphet Rd) is next to Wat Phra Si Sanphet and houses a large bronze cast Buddha image. No entry charge.


Ancient Palace (access through Wat Phra Sri Sanphet, no additional entry charge) is mostly low-lying ruins set in large grounds, with only a few free standing buildings remaining.
Wat Thammikarat
(U-Thong Rd) is a working wat, but also contains the ruins of a large chedi and a huge wiharn which has a large tree growing picturesquely out of the side of one wall. No entry charge.
Wat Ratchaburana
(Naresuan Rd) stands out for having a large
prang
recently restored to its original condition, clearly visible if you come in from the east. A major find of golden statues and other paraphernalia was made here in 1958, although much was subsequently stolen by robbers — the remnants are now in the Chao Sam Phraya Museum. You can climb inside the prang for nice views and a little exhibit. The mysterious staircase down, leads to two unrestored rooms with original paintings still visible on the walls. Entrance fee of 30 baht.
Wat Phra Mahathat
(Naresuan Rd), across the road from Wat Ratburana, is a large temple that was quite thoroughly ransacked by the Burmese. Several Leaning Prangs of Ayutthaya are still feebly defying gravity though, and the rows of headless Buddhas are atmospheric. This is also where you can spot the famous tree that has grown around a Buddha head. Entrance fee of 30 baht.
Wat Phra Ram
(Sri Sanphet Road) consists of one huge prang and some smaller chedi and outbuildings, all in disrepair though the top of the prang is complete. Staircases to the side of the prang give views of
Ayutthaya
. Entry charge of 30 baht.
Phra Chedi Sisuriyothai
(U-Thong Rd) is a white and gold coloured chedi built as a memorial to a previous queen. Set in a small, well-kept gardens. No entry charge.
Wat Phu Khao Thong
(about 3km out of town, west off the Ang Thong Rd) is a huge white, and slightly wonky, chedi set in a big field. The actual nearby wat is still working and has small grounds with a smiling fat buddha image set in the ruins of a small viharn. You will see the
Monument of King Naresuan the Great
on the way. No entry charge.
Wat Cheung Tha
(about 1km out of town, east off the Ang Thong Rd) is a small working wat with small grounds with chedi and viharn ruins and some buddha images. No entry charge.
Wat Nah Phra Meru
(about 1km out of town, east from
Wat Cheung Tha
) has a large viharn containing the biggest bronze buddha image in Ayutthaya, cast dressed in full royal regalia. The viharn is set in well maintained grounds with buddha images, a small koi carp pond, and three ruined chedis, one of which has a large bodhi tree growing out of the top of it. No entry charge.
Wat Phanancherng
(on the Bang Pa-in Rd, about 1.5km out of town) is a working wat which contains the oldest large cast bronze Buddha image in Ayutthaya, though it was covered in scaffold in June 2006 for refurbishment. There is a small room to the right of the main hall which contains a nice collection of Buddha images and the room is painted with many individual unique pictures, in bright colours offset with gold. Entry charge of 20 baht.
Wat Yai Chaimongkon (on the Bang Pa-in Rd, 1km east of Wat Phanancherng) is a large working wat, with ruins that appear on some of the well known photos of temples in Thailand. It features a large reclining Buddha in saffron robes in its own ruined wiharn, and, most spectacularly, a huge chedi swathed in golden cloth set in a courtyard which is lined by Buddha images all wearing saffron robes. Very photogenic. Entry charge of 20 baht.




Museums
Chao Sam Phraya Museum
(Rojana Rd) is where you can find some of the Buddha heads that are so conspicuously missing at the sites themselves. Opened in 1961 and looks the part. Perhaps the most interesting displays are the golden regalia from Wat Ratchaburana, on the 2nd floor of Hall 1. Open Wed-Sun from 9 AM to 4 PM, entrance 30 baht.
Ayutthaya Historical Study Centre
(Rojana Rd), across the road and to the east of the Chao Sam Phraya museum, is a more modern museum that tries to depict life in Ayutthaya with models. A good place to start or end your tour, but a little pricy (by Thai standards) at 100 baht.
Chankasem National Museum
(U-Thing Rd.) northeast corner of island




Parks/Other
Khun Phaen Residence
(Sri Sanphet Rd) is a renovated traditional teak house set in a good-sized park with water and various seating areas. The elephants doing the tourist circuit stop here for photos, with Wat Phra Ram in the background. No entry charge.
Monument of King Naresuan the Great
(in front of
Wat Phu Khao Thong
), is a large bronze statue of King Naresuan on a horse. Situated on the entrance road to Wat Phu Khao Thong.


Get around
It is advised to rent a bicycle. You should get a copy of a
map for free at the shop that rents you the bicycle. If you are physically larger than most Thais, be warned that the larger bicycles are not necessarily well maintained, so be sure that they work properly (seats well attached, handlebars don't slip in relation to front wheel direction) before you leave.
Alternatively, you can hop around town by tuk-tuk or motorbike for 20-30 baht a pop. Ayutthaya's tuk-tuks are larger than the Bangkok variety and you can easily squeeze in four or more on the two songthaew-style facing benches. Only "official" tuk-tuk drivers can pick up passengers from the train station (their photos are displayed on a board at the southern end of the platform) and they are required to work to a fixed scale of charges. Ayutthaya "Tuk-Tuks" are very small and are only to be seen in this town...very friendly drivers...2 hours = 150 baht...can 'squeeze" people in but hard to see out...most destinations are very close
TOT runs "trams" around the main tourist attractions for 20 baht/day...can 'hop-on hop-off'
The local bus to
Lopburi
leave the main bus station every 20 minutes and pass Wat Nah Phra Meru.