Pattaya In Thailand


Pattaya
(พัทยา) is a popular resort on the North Gulf Coast of
Eastern Thailand
, 150 km south-east of
Bangkok
. Most famous for its go-go and beer bars, it's also one of Thailand's best locations for all manner of sports and activities. Some of the beaches are lacklustre (by Thailand's high standards) and rampant over-development has long since destroyed any natural charms it once had, but its plethora of hotels and guest houses and convenient location with quick and easy access from the capital make it a popular weekend getaway. Catering for over 5 million tourists yearly, Pattaya is also able to offer an excellent range of eating choices and a wide variety of things to do and see.
Pattaya's name was originally "Thap Phraya", meaning Army of th
e
Phraya - commemorating the surrender of Nai Klom's army to that of Phraya Tak (later King Taksin the Great), without a fight. Thap Phraya became Phatthaya (the name of the north-easterly wind at the beginning of the rainy season), and then Phatthaya (the true phonetic spelling).
Since 1978, Pattaya has been administered under a special autonomous system with a status comparable to that of a municipality by the mayor of Pattaya City, who has overall responsibility for policies, public services, and supervision of all City Hall employees.
Once a sleepy fishing town, Pattaya first boomed as an R&R spot during the Vietnam War and has been a sex tourism destination trying to improve its image ever since. Currently, Pattaya is booming again: TAT claims 5,338,000 visitors for 2005 (up 6.5% from 2004), of which two-thirds were foreigners, and the opening of the new Suvarnabhumi Airport (located to the east of Bangkok, alongside the expressway to Pattaya) has made visiting easier than ever.
Pattaya is popular not only as a beach resort and for its entertainment, nightlife and shopping, but also for the broad selection of pastimes it caters for, from golf and horseback riding to bungee jumping, karting and shooting - not to mention a wide variety of watersports such as scuba diving, jet-skiing, sailing, water skiing, windsurfing and kitesurfing, and a whole lot more. Pattaya is also very popular as a conference, convention and seminar venue, and the grapevine hosts rumours of future developments of varying degrees of plausibility, such as a horse racing track, casinos, and a tram system.
The Tourist Authority of Thailand (TAT) Information Office is just outside the centre, exactly 1 km south of the junction of Second Road and South Pattaya Road - proceed along Pratamnak Road, continue straight up the hill, and where the road bears sharp right part way up, turn sharp left into the small side-soi. Worth a visit if you're in Pattaya for an extended period and want to browse for fresh ideas for new things to do/see. Open daily 08 :30-16:30, tel. +66-38428750 / 8990 / 7667 or use the TAT freephone number: dial 1672 or e-mail: tatchon@tat.or.th
Attraction
Animals

& zoos
Underwater World Pattaya, 22/22 Moo 11 Sukhumvit Road (15 minutes from town centre); tel. +66-38756879. Aquarium full of tropical creatures. Open 09:00-18:00, last admission 17:30, feeding times 10:00, 10:30, 11:00, 14:00, 14:30, 15:00. Different prices for Thais (180 baht/adult, 120 baht/child) and foreigners (360 baht/adult, 180 baht/child).
Oasis Seaworld, Paknam, Laemsing, Chanthaburi - full day guided trips including 45 minutes swimming with dolphins - approx. 2000 baht/adult 1500 baht/child - available via travel agencies.
Institute of Marine Science Aquarium & Museum, Burapha University, 169 Long-Hard Bangsaen Road, Bangsaen; tel. +66-38391671 /3 is open 08:30-16:00 (feeding time 14:30), except public holidays (open 08:30-17:00, feeding times 10:30 + 14:30) and Mondays (closed); admission 20 baht/adult, 10 baht/child.
Elephant Village, 54/1 Moo 2, Tambol Nong Prue; tel+fax. +66-38249818, +66-38249853 offers shows, elephant trekking and jungle tours (including a four-day/three-night tour in Phrae Province).
Monkey Training Centre
, Soi Chaiyaphruk (
off Highway #3
) tel.
+66
-38756367 /
+66
-38756570. Features monkeys trained to harvest coconuts and undertake other tasks. Also stages cockfighting (a traditional Thai bloodsport) and a snake show. Open daily, shows 09:00, 11:00, 12:00, 14:00, 17:00 - admission 250 baht.
International Snake Show, Sukhumvit Road (39/4 Moo 5 - near the junction with North Pattaya Road) tel. +66-38731586 / snake_show@hotmail.com
Gardens
Nong Nooch Tropical Garden, 163 Sukhumvit Road (15 minutes east of town centre); tel. +66-38429321 . Beautiful gardens with waterfalls, elephant shows, "Cultural Extravaganza" performances 4 times a day, restaurants etc. - enough to fill an entire day. In Feb 2007 they had major construction ongoing. We did the whole place in 90 minutes. Disappointing. Yet another place in Pattaya that thinks it is acceptable to charge foreigners more than Thais .200 baht for locals, 400 baht for foreigners. This practice is illegal in Thailand but strangely nobody in authority is prepared to do something about it.
Saithip Butterfly Garden, 79/5 Moo 11 Bangpra-Khaokheow Road, Bangpra Sriracha; tel. +66-99365339. Open 08:00-17:00. Admission for foreigners: 100 baht/adult, 60 baht/child.
Museums
Bottle Art Museum, 79/15 Moo 9, Sukhumvit Road, Nongpler; tel. +66-38422957, +66-38415783 . More than 300 miniatures in bottles, open 08:00-20:00.
Open Eyes, 2nd floor of Pattaya Bazaar, 266/52-53 North Pattaya Road; tel. +66-38362077. "The Great Experience Behind The Magical", a lot of technological magic and illusion shows. Open 15:00-23:00; show time 15:00-23:00; Spy Zone show time 15:00-22:00.
Ripley's Believe It Or Not museum (tel. +66-38710294 /8) is located on the third floor of Royal Garden Plaza. Access from both Second Road (you can't miss this side - there's a large aeroplane protruding from the upper floors) and from Beach Road. Different prices for Thais (280 baht/adult, 230 baht/child) and foreigners (380 baht/adult, 280 baht/child); at the same location there's also a "Haunted Experience" show, a 4D movie theatre and "Infinity Maze" game. Various combination tickets available, all dual-priced - for Thais (480 baht/adult, 380 baht/child) and foreigners (580 baht/adult, 480 baht/child) to enter all four. Open daily 11:00-23:00.
Sacred places
Buddha Hill (between Thappraya Road and Phratamnak Road; 5-10 minutes by songthaew) is one of the highest points in Pattaya. At the summit is the biggest Buddha statue in Pattaya, and nearby is a beautiful Chinese-style sacred area dedicated to Confucius and Lao-zi. The next hill, just across the Phratamnak Road, has the best Pattaya Bay coastline viewpoint and is also worth a visit, especially for sunset.
Sanctuary of Truth, 206/2 Moo 5, Soi 12, Naklua Road, Naklua; tel. +66-38225407 / +66-38367229. An unfinished project, but worth a visit even now. The main attraction is a huge ancient-style wooden temple; nearby is a small dolphinarium with dolphin shows at 11:30 and 15:30.
Theme parks
Gems Gallery, 555 Moo 6, North Pattaya Road; tel. +66-38371222. One of several "World's Biggest" jewelry stores, this one also has a theme park.
Mini Siam is located on Sukhumvit Road, surrounded by Soi 33, and features miniature replicas of iconic structures from Thailand and all over the world.
Three Kingdoms Theme Park

, 100 Moo 9, Tambon Pong; tel.

+66

-38421428 . Adjacent to Horseshoe Point (20 minutes from Pattaya), this is a Chinese-style garden filled with pagodas, murals and figures from the Chinese epic

San Guo Zhi

, and more an expression of filial piety than a theme park. Perhaps worth a quick look on a slow day, but unlikely to offer much to visitors not familiar with the story. 60 baht/adult, 30 baht/child.


Beaches

The three-kms. long, main Pattaya Beach, runs along the city centre. The beach is full of life with hotels, restaurants, shopping malls all along the road facing the beach. The street along the beach – Walking Street – comes alive with rock music as the night sets in. People throng the street to experience the night life, which is unique in all respects. There are hundreds of beer bars, go-go bars, discotheques around the area. Muay Thai, the Thai Boxing, an open arena in some of the beer bars are exciting to the hilt.
Another beach in Pattaya, Jomtien Beach, more popular among family vacationers, is on the Southern part of the city, and separated from the main Pattaya Bay by a hill. Jomtien is more calm and serene compared to the crowded Pattaya Beach and a paradise for water sports enthusiasts. Jomtien is also popular for its amusement park and tower, to keep children entertained. The one-km. long, Wong Phrachan Beach, situated on the Northern part of the Pattaya Beach is a favourite among swimmers.
Pattaya's main beaches are popular and busy places. For the thrill-seekers, activities include banana-boat rides, jet-skiing, water-skiing, parasailing, windsurfing, and the like; and anyone who just wants to enjoy a simple swim or a good splash around with a frisbee or rented inner tube will always find themselves with plenty of company. However, while in and beyond the surf, a wary eye does need to be kept on the more frenetic elements of the passing traffic.
For those more interested in inactivities there are acres of sand jam-packed with recliners and umbrellas (usually with an "in-house" supply of drinks), serviced by an army of laid-back but tenacious hawkers offering anything and everything from food (especially seafood, fruit, ice cream) to massage, manicure/pedicure, tattoos, lottery tickets, newspapers, herbs, flowers, gems, perfumes, sunglasses, CDs, watches, lighters, clothes, toys, souvenirs, handycrafts (it's a bit like TV shopping - as soon as you've declined one offer, it's time to consider another) and so on. Eventually you buy a very dark pair of sunglasses, and after that you just pretend to be asleep.
Beware of dirty, unclean, unknown objects in the beaches and sand, and pay attention to your children. There have been some cases where needles and injections have been found at morning on beaches when the night before teenagers or adults have been intoxicating themselves. But most of the time beach cleaners will clean and sort out the beaches early at the morning. But still pay attention.
Jomtien
Jomtien ("Chom Thian", etc) Beach is a 10-15 minute (10 baht) songthaew ride south from the centre of Pattaya. Some 6 km long, it is especially popular with Thai families enjoying day outings. Places to eat and sleep line the opposite side of Jomtien Beach Road and the many sois that lead from it.
Dongtan Beach, at the northern end of Jomtien Bay, has a traffic-free promenade, and the area in front of the Avalon Beach Resort is popular with gay visitors.
Naklua Bay is immediately north of Pattaya Bay, with Rachvate Cape separating the two. Naklua Beach, to the far north, is the main strip, with the smaller Crescent Moon Beach and then Palm Beach further south. Beyond them is Wong Amat Beach which occupies the northern end of Pattaya Bay, but is accessed from Naklua. All are generally cleaner and more suitable for quiet relaxation than Pattaya Beach.
Islands
Ko Laan (or Lan or Larn, or Coral Island) is 7.5 km west of Pattaya. It covers an area of 5.6 sq.km and has six popular beaches with a decidedly "touristic day-trip" flavour, offering banana boat rides, jet-skiing, parasailing, and the like. Also available from and around Ko Laan are various underwater activities such as scuba diving, snorkeling, seabed walking and submarine rides; there are also numerous restaurants, some accommodation, and a shooting range. Regular ferries from Bali Hai Pier costs 20 baht and take 30-45 minutes - departure times: from Pattaya 07:00, 10:00, 12:00, 14:00, 15:30, 17:00, 18:30; from Ko Laan 06:30, 07:30, 09:30, 12:00, 14:00, 17:00, 18:00. Alternatively speedboats can be chartered just about anywhere along the main beaches, typically for 1500-2500 baht; or you can book a day trip via an agency - expect to pay 500-600 baht for minibus collection from your hotel around 09:00, ferry from Bali Hai Pier direct to one of the main beaches (taking about half an hour), lunch, soft drinks, return ferry around 16:00, and minibus back to your hotel.
Ko Saak (or Sak), less than 1 km north of Ko Laan, is a small horseshoe-shaped island with two interconnected beaches. The northern beach is popular for swimming and snorkeling, and the southern beach is a good place to see coral.
K

o Phai (Bamboo Island) and other islands in the Ko Phai group - Ko Klung Badan (or Krung Badan), Ko Luam (or Leom), Ko Man Wichai and Ko Rin (or Lin) - are preferred destinations for scuba divers, and are also popular for general relaxation, fishing, swimming and snorkeling day trips. This area is controlled by the Royal Thai Navy, and overnight stays are not permitted. For a return speedboat charter from one of the mainland beaches or Bali Hai Pier (approx. 23 km / 2 hours), expect to pay 2500-4000 baht; possibly less from Ko Laan.
Ko Khrok (or Krok), 2 km east of Ko Laan, is an isolated rocky islet with a single 100 metre stretch of sandy beach to the east, where visitors can see coral reefs.


Nightlife



Pattaya is renowned for its nightlife. The city has hundreds of beer bars, go go bars, and night clubs/discotheques. The most famous include Tonys, Marine Disco, X-Zyte, Lucifer, Hammer, Mixx. New clubs and bars are opening all the time. The world famous Walking Street is the center of the Pattaya's nightlife.

Many bars, discos and nightclubs, as well as several large massage parlours, are venues for sex workers. Other massage parlors exist which provide traditional non-sexual Thai massages.
Since the "social order" crackdown of 2004, there are fewer sex shows (such as the ping pong shows). Depending on the enforcement climate, go go dancers may be seen fully nude, topless or in bikinis on different days or weeks. However, with the political crisis, there is little incentive to be strict about the former laws.

Muay Thai (Thai boxing) matches aimed at tourists can be seen at several open-air beer bar complexes.

Boyztown, Soi Sunee Plaza, and the Jomtien Complex areas are famous for their many beer bars, cabarets and go-go clubs catering to a gay clientele. Pattaya probably has the largest concentration of gay oriented establishments in Thailand; many specialize in specific types of hosts (slim, muscular, effeminate, etc.), while others have a broad range of men available. There is very little in the way of gay nightclubs or bars in the Western sense; the vast majority of places are no different than the venues that target heterosexuals, both feature sexual entertainment.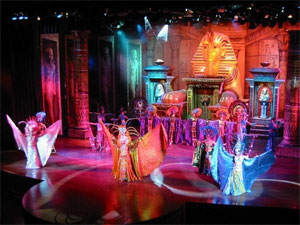 Pattaya is known for its cabaret revues featuring kathoeys (male-to-female transsexuals), with Alcazar and Tiffany's being the largest and most elaborate.
Another important, but understated aspect of Pattaya are the foreign restaurants. Often run by expatriates, most offer food at prices far below those found in Bangkok, Samui or Phuket.